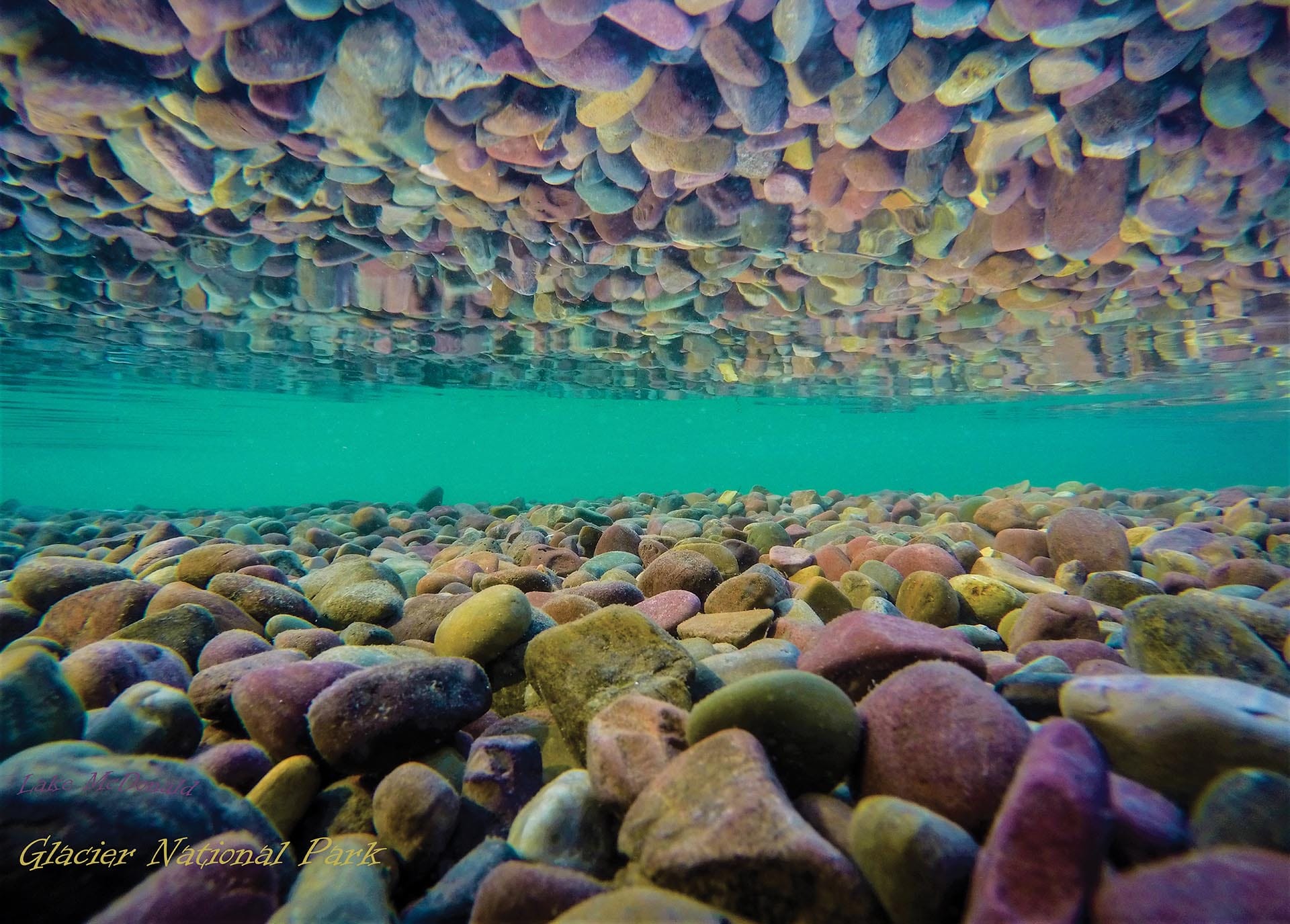 Photographer: Joe Wiggins
Our photographer Joe Wiggins hit it out of the park with this one! Despite the sheer madness presented in this unique image, this one is proving to be extremely popular!
Lake McDonald's rainbow rocks are often photographed from the shore of Lake McDonald at Apgar Village on the far end of the lake. Shades of purple, green, orange and brown are the main focus of this puzzle. A perfect mirror image of the rocks invokes curiosity, wonder, calm, relaxation, tranquility and an overall piqued interest, while slowly driving you up a wall as you try to discern up from down as you work on this one of a kind puzzle! (And maybe some perspective into the life of a Glacier National Park FISH!) The choice is yours whether to finish and frame this beauty, or flip your puzzle table over for a different perspective! Point being it is an awesome puzzle, sure to provide you hours of entertainment, and a few new grey hairs!
The largest lake in Glacier National Park, Lake McDonald is located in Northwestern Montana. It is 472 feet deep. That's deep enough to hold the length of almost three Olympic sized pools! For wondrous sights to see, visit Apgar village and gaze at the wonderful rainbow-colored lake rocks. But remember, take only photos, removing these rocks from the lake and park is a CRIME! Leave the scene intact for the future generations! Fun fact: the image used was captured using a Go-Pro underwater to show a mirror reflection of the rainbow rocks!
The packaging:
Our product does not contain copious amounts of dust from manufacturing like other puzzles do, our process rarely leaves behind a single speck. Each box comes with a reference poster, and the pieces are sealed in a plastic bag. This puzzle is printed with a matte finish to prevent glare while assembling. Our piece replacement program ensures that should you receive one of the rare 999 piece puzzles, we have you covered!. All puzzles are guaranteed to have the highest quality of color ink to ensure a true to life image for your new puzzle, worthy of framing, and hanging in your living room.
Each puzzle is only $34.99 + $2.99 shipping flat rate for a single item, an additional $2.99 for a 2nd item, but all orders of 3 or more (max 6) ship for free.
Skill Level:  Challenging, like a puzzle should be!