Bringing you America's Natural Wonders, Several Pieces at a time
Frequently Asked Questions
We love getting questions from our fans. If you have a question we haven't answered here, please let us know.
How are these Puzzles Made?
 I begin by having physical prints made from my files, which are then sent to the factory to be used as color proofs during production, ensuring an accurate reproduction of the original photo. The prints are then coated with a matte finish to reduce glare, and protect the pieces from wear. The cutting process is done using multiple presses, each cutting in a different direction, to ensure that the pieces are fully cut, not stuck together in your box. They are then run up a conveyor belt into a machine that seperates them, and drops them into a bag, which is then sealed. 5 of each puzzle are set aside, and sent to us intact, which we seperate by hand, label and bag, and hang those 5 pieces on a board. These are here for you just in case a piece got eaten by one of the machines!
I work very closely with my manufacturer to ensure that my quality standards are met, and to resolve any issues that arise. I will work just as closely with you to resolve problems. My operation only exists because of happy, repeat customers, who tell their friends about the amazing puzzles we put our dedication into producing!
 Check out the video compilation of the manufacturing in action below!
How are these amazing puzzles shipped?
One (or more) at a time with love and care. 🙂 They are packed tightly in heavy duty boxes to avoid damage. Due to the weight, they are shipped via Priority Mail or UPS ground, depending on the order.
If you get sticker shock in your cart because of the shipping cost, allow me to explain. My focus when designing these puzzles is quality. One of the biggest complaints in the industry stems from thin, bent, or broken pieces. Mine are manufactured using 2 mm (1/16th inch) thick Grade A chipboard. This results in a single puzzle, packaged for shipping, weighing in at just under 2 lbs. The USPS therefore requires me to use Priority Mail for shipping. Even with my shipping discount, the actual shipping cost ranges from $8.80-$13.42, depending on your location. UPS is priced even higher for single puzzle shipments. I absorb a portion of these costs on every order. This is also why i offer free shipping on orders of 3 or more, as UPS charges me about the same to ship 3 as the USPS does for one. I can ship 6 puzzles to the other side of the country for $2 more than a single puzzle to the same location! Unfortunately, i cannot control this pricing, as i am a small, but growing company (Myself, and 3 part time helpers). In order to qualify for a cheaper pricing tier, i would have to buy $10,000 in postage a month for 3 consecutive months. This is why larger companies can ship for less. Those companies also use thinner, lighter materials in order to reduce weight, and therefore ship cheaper. Wouldnt you prefer paying the few extra dollars for a quality puzzle? I know i would!
 I hope this helps you understand. You can also verify the actual USPS rate here…US Postal Service rate calculator….using 59601 as the ship from address, and choosing to calculate by size, the box dimensions are 12 x 9 x 2, weighing 2.2 lbs.
 You can read more about my focus on quality and customer service on this page. You will not be disappointed with these beautiful puzzles, made from photos taken by our own team of photographers, who receive a portion of every sale.
 Orders received before 3 pm are usually shipped the same day, otherwise handling time takes 1-2 days. Shipping time ranges from 2-6 days depending on location and carrier. Our preferred method of shipping is USPS Priority Mail.
We ship anywhere in the US and Canada.  We do our best to get the absolute best rates which we pass on to you.
Our jigsaw puzzles are high quality reproductions of our personal collection of photos taken by our own Professional Photographers. They are printed on quality photo paper using eco-friendly soy based inks, and coated to resist wear and give your puzzle a beautiful matte finish. This reduces glare during assembly.
The photos are then mated to  a stiff high quality cardboard backing to resist bending or breaking easily. They are then cut using a varying piece shape cut pattern, to produce a puzzle that fully interlocks tightly together.
The pieces are then factory sealed in a plastic bag, and the box is also sealed. A reference poster is also included in the box. Unlike other puzzles, you will not have a bag or box full of dust when you are done putting it together.
We currently only offer 1000 Piece puzzles

We shifted to a matte finish to reducec glare during assembly

Our 1000 Piece puzzles are 27.6 x 19.7 inches when completed.

Sturdy interlocking pieces

High resolution prints for an awe inspiring finished product worthy of framing for display

We are always looking to improve, and expand, commited to offering you the best puzzles you have ever done!
What do the pieces look like? Can i see a close-up of the puzzle pieces?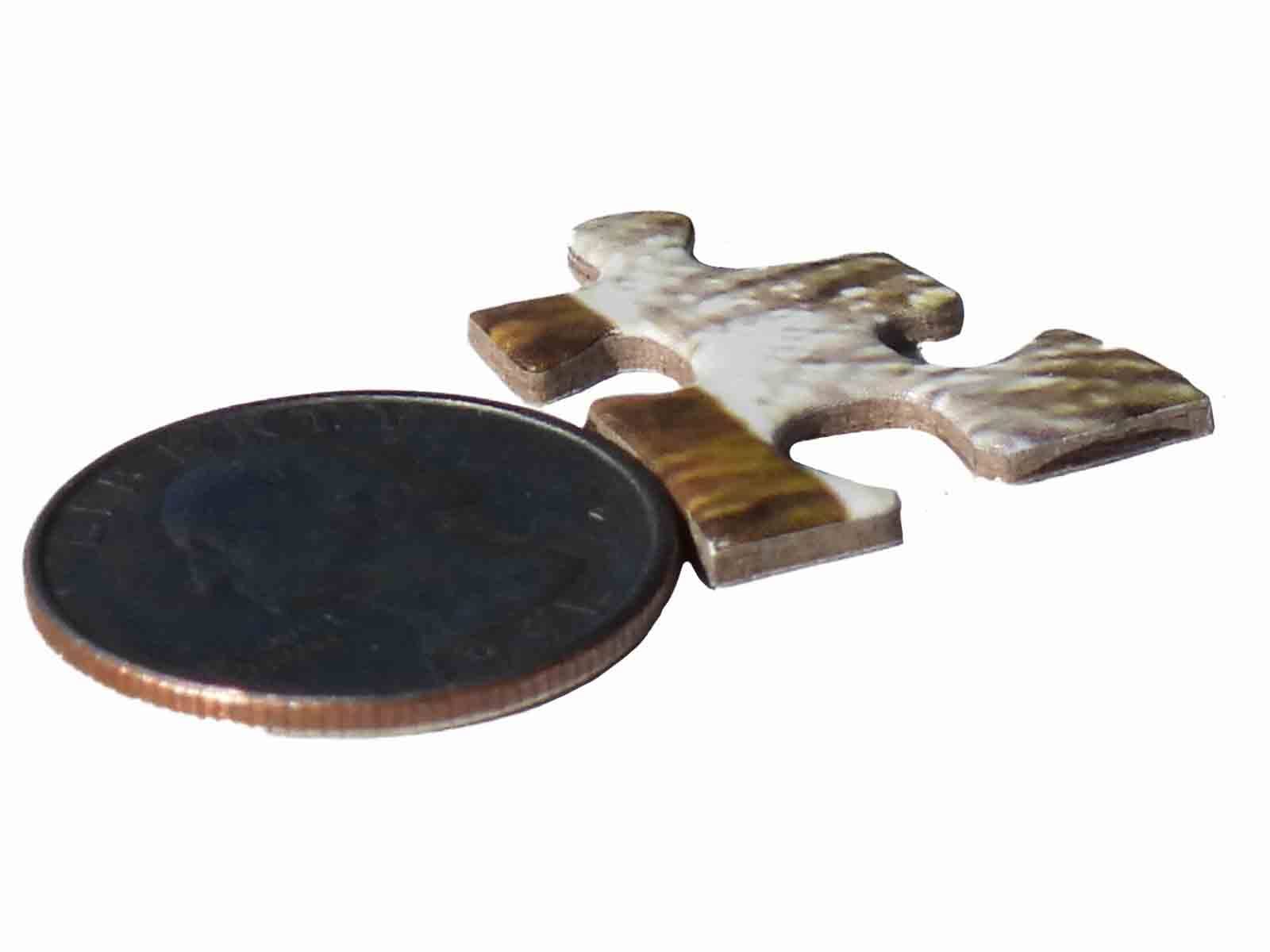 They are cut with an irregular piece shape to produce an interlock so tight you can pick it up and flip it over (gently) without losing a piece, once assembled. The cutting process is a dust free process, there is no manufacturing dust included in your puzzle. They are manufactured using Grade A chipboard 1/16 of an inch thick for sturdy, durable pieces that wont bend or break easily, and a premium print resulting in a puzzle you will love to frame and hang on your wall when you are done!
What if a piece is missing?
Oh, we know how upsetting that is. Luckily it does not happen often. Did you check your forearms? Did you ask the cat? Ok, just let us know. We will work with you to find the best solution for you.
To replace a piece, go here to see how to determine which piece you need. We'll take care of it. 
We stand behind the quality of our product. In the event an issue arises, contact us either through the email below, or via the Contact Us link at the bottom of the page. We will accept returns or exchanges for 30 days after the expected delivery date.
                                            Where are you located? 
Our warehouse is located in beautiful Helena, Montana:
National Park Puzzles, LLC
3124 Bozeman Ave
Suite C
Helena, Mt   59601
406-513-1110
email us at info@nationalparkpuzzles.com , or use the Contact Us link at the bottom of the page.