Bringing you America's Natural Wonders, Several Pieces at a time
Do you love our National Parks?
Or at least one?
Or maybe you love jigsaw puzzles?
Do you love writing?
If any of those answers are yes, we'd love to hear from you.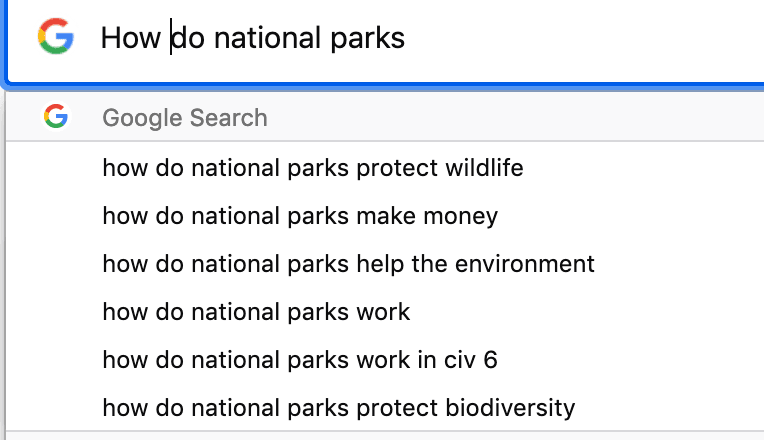 Very Quick Tips:
Short paragraphs. Spaces between.
Bold subtitles and answers.
One link to a reputable source per section- Something with authority.
A little humor. Some personality.
For any park that we already have puzzles for, we would use our own images for the article. As we add parks to our collection, we will switch out the images for ours.
What to include :
We want Google to send people to our site after asking a common question. The post starts with that question and immediately answers the question, in bold. We want to win the snippet.
Then we want to answer about 4 more questions that the typical person would then ask. They are all related. Not just 5 questions about national parks, but what we and Google would expect that person to ask next.
For example, if a person were asking about when is the best time to visit X National Park, a common follow-up question might be What to see at X National Park, then "Where to stay at X National Park, What animals are at X National Park, when did X National Park become a National Park? What to pack? How many days does it take to see it all? 

If the section were "when did X National Park become a National Park?" Then that would be the heading, or maybe " Curious when X National Park become one? Or "Curious How X National Park became one? (Title/heading)
Everything you want to know about X National Park. (Main title)
When did X National Park become one?
And then immediately answer it. X National Park joined the park system on Oct 29 1908. (That would be in bold) Then the rest of the paragraph(s) is telling the story of how it became a national park. Link to a reputable history source that talks about the history/founding of the park.
When is the best time to visit? (Subtitle)
There likely is not a wrong time to visit X National Park, but people do tend to crowd the gates between x date and x date. The park opens on Date and traffic starts to pick up ____ . In the early season, you can expect _______ weather. Temps between y and z and sunny/damp,/cloudy etc mornings… whatever. (The weather would be in bold). Link to a reputable source concerning the weather. Not "Bobs Weather Blog"…

To find common questions people ask about the national parks, you can have google autofill your search. Make a note of those questions. See which ones go together. Then scroll down and see what other things people are asking and then scroll down to bottom (in blue list) and see hat see Google suggests All of these are common questions.
We want readers and Google to see what the article answers quickly and easily. When they get their answer, they are likely to have another that is related to it. We want them to just be able to stay on the same page. Share the page with other X National Park enthusiasts. 

We need posts for every national park in the US. Preferably starting with the ones we have puzzles for. 🙂 They don't all have to have exactly the same format. But resemble each other. Have a similar feel.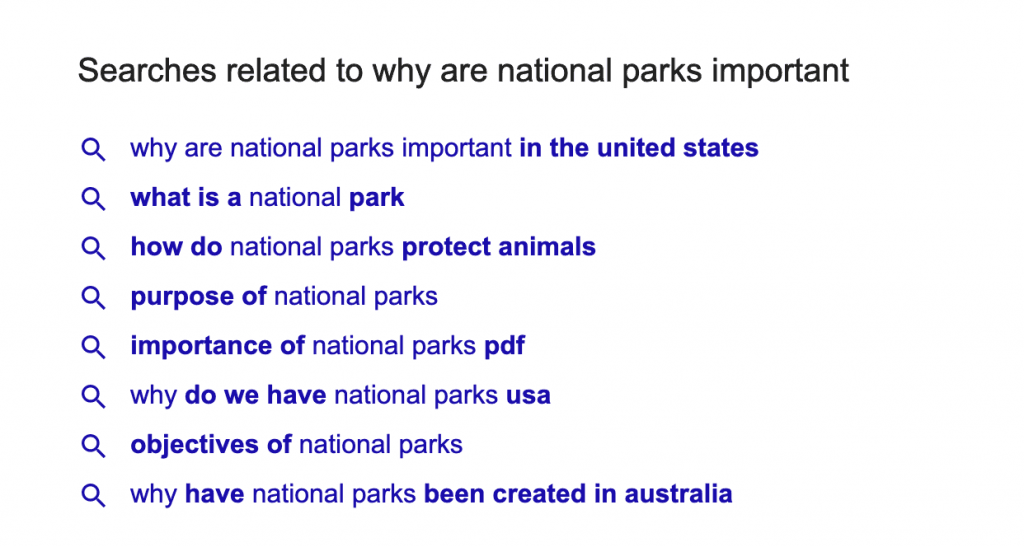 We have a LOT of content to fill out. But we also have had a few nibbles on our ad, so before you take time to write about a particular park or experience, please connect with us.
Email me (Dachia) and we can figure out which parks still need to be covered and what a good time frame would be.
This page was just created to help us connect with potential writers. It's a bit rough right now. I'll polish it as we go.